How to translate your entire website online? What you need to know.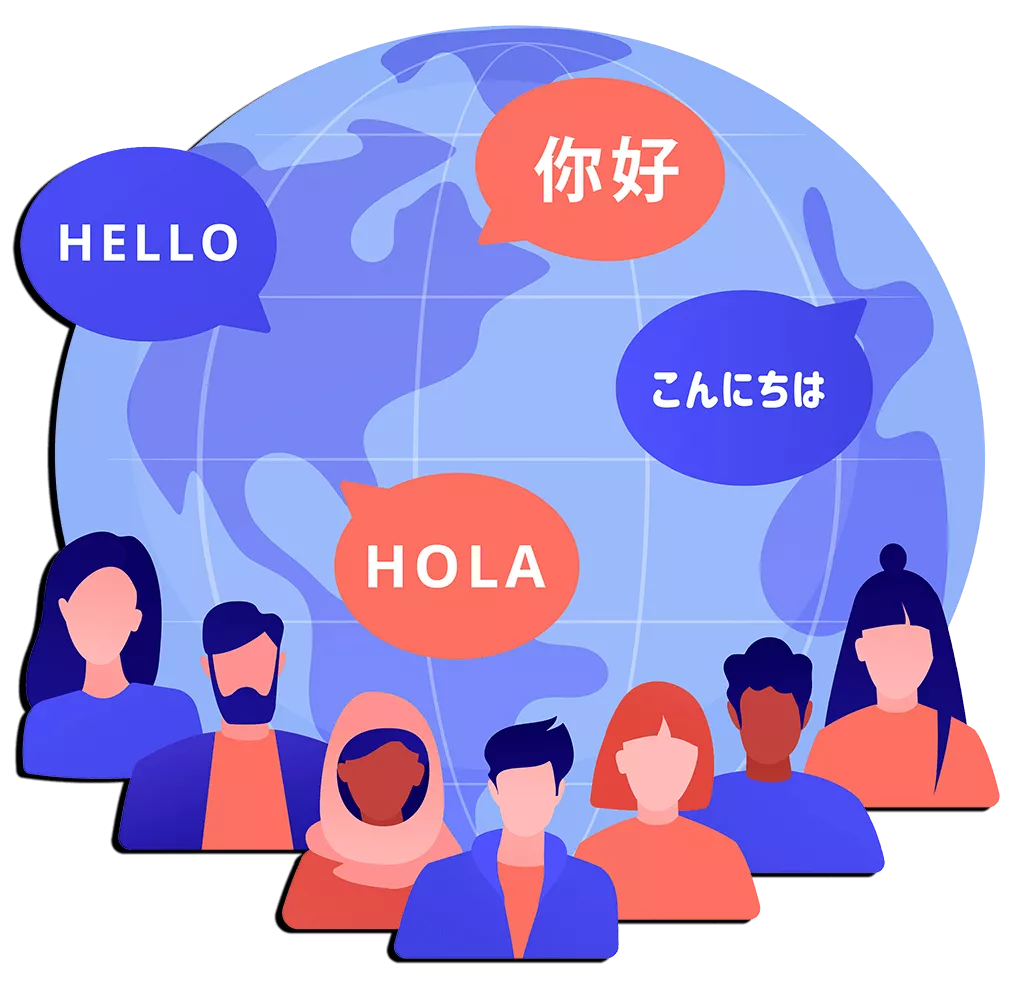 Are you seeking to broaden your organization's horizons by expanding into untapped markets and appealing to a global audience? If so, then you should look no further than ConveyThis. Our potent translation management system is fully equipped to translate your website into over 90 languages, making your website's content readily accessible to individuals worldwide.
What's more, you can experience the exceptional benefits of our powerful translation management system today by signing up for our free plan!
Our free plan grants you the liberty to translate up to 2,500 words of content, granting you an exceptional taste of what our formidable translation management system is capable of. Additionally, you can easily upgrade to one of our affordable paid plans if you need to translate more content.
Why opt for ConveyThis over other translation services, you may ask? We've compiled just a few reasons:
Accuracy: Our translation process seamlessly merges machine and human translation to deliver precise translations across over 90 languages. Our team of professional translators ensures that your website's content is translated accurately and with unparalleled precision.
Ease of Use: With our user-friendly interface, uploading and translating your website's content is an effortless task. Regardless of your technical proficiency, our streamlined process guarantees an unparalleled experience.
Speed: Our translation management system boasts exceptional speed and can translate your website in a matter of hours, ensuring that your website is accessible to individuals from all corners of the world promptly.
Affordability: Our pricing plans are affordable, customizable, and flexible, ensuring that you can find a plan that works for your business's needs and budget. With our free plan, you can experience the benefits of our service for yourself and appreciate the exceptional value we provide.
Customization: We recognize that every business is unique, and we provide customization options to ensure that your website's content and design align with the needs of your target audience, providing an exceptional personalized experience.
Support: Our team of customer support experts is available 24/7, ready to respond to any queries you may have and provide ongoing support and maintenance to ensure that your translated website remains functional and up-to-date.
In today's global economy, having a robust online presence is essential for businesses of all sizes. By selecting ConveyThis, you can appeal to a global audience and broaden your business horizons by exploring untapped markets. So why wait? Sign up for our free plan today and discover the exceptional value ConveyThis can provide. Translating your website has never been easier or more affordable!
Step 1: Determine your target audience and languages
First things first, the initial step in translating your website is to identify your target audience and the languages they speak. Perhaps you may want to focus on translating your website into the languages spoken in countries where you currently operate or where you plan to expand in the future. A helpful tool in determining this is by utilizing Google Analytics to see where your website visitors are coming from and which languages they speak.
Step 2: Choose a translation method
Various methods are available for translating a website, and the best method for your business will depend on your budget, timeline, and goals. Here are some of the most common methods:
• Human translation: This involves hiring professional translators to manually translate your website content. Human translation is the most accurate method, but it can be expensive and time-consuming.
• Machine translation: This involves using software such as Google Translate to automatically translate your website content. Machine translation is faster and more affordable than human translation, but the quality may not be as high.
• Hybrid translation: This involves using a combination of human and machine translation. For example, you could use machine translation to generate an initial draft and then have a human translator review and edit the content. Hybrid translation can be a good compromise between cost and quality.
Step 3: Prepare your website for translation
Before you commence translating your website, you must prepare it for the process. Here are some steps you should take:
• Make a backup of your website: This will ensure that you have a copy of your website in case anything goes wrong during the translation process.
• Simplify your website design: A simple design with a clear navigation menu and minimal graphics will make it easier to translate your website.
• Separate content from code: Your website content should be stored separately from your website code to make it easier to translate. This can be done using a content management system (CMS) such as WordPress.
• Use consistent formatting: Use consistent formatting for all of your website content, including headings, fonts, and colors. This will make it easier to translate your website accurately.
• Provide context: Provide context for your translators by giving them access to your website design and content hierarchy. This will help them understand how the content fits into the overall structure of your website.
Step 4: Translate your website content
Once you have prepared your website for translation, you can begin translating your website content. Here are some tips to ensure success:
• Use a professional translator: If you are using human translation, make sure you hire a professional translator with experience in your industry and target language.
• Avoid machine translation for critical content: Machine translation can be useful for translating basic content, but it is not recommended for critical content such as legal or medical documents.
• Use a glossary: Create a glossary of key terms and phrases to ensure consistency in your translations.
• Use translation memory software: Translation memory software can help you save time and money by storing translations for future use.
• Review and edit: Always review and edit your translations to ensure accuracy and readability.
Step 5: Test your translated website
After translating your website content, it is important to test your translated website to ensure that it works properly and looks good
in all languages. Here are some things to consider:
• Check for errors: Check your translated website for spelling and grammar errors, broken links, and formatting issues.
• Test functionality: Test all of your website's functionality, such as forms, shopping carts, and login systems, to ensure they work properly in all languages.
• Check for cultural sensitivity: Make sure your translations are culturally sensitive and appropriate for your target audience.
• Test on different devices: Test your translated website on different devices, such as desktops, laptops, tablets, and smartphones, to ensure it is responsive and user-friendly in all formats.
Step 6: Localize your website
Localization involves adapting your website to the local language, culture, and customs of your target audience. Here are some steps you can take to localize your website:
• Use local currency and units of measurement: Use the local currency and units of measurement to make your website more relevant and accessible to your target audience.
• Use local images and graphics: Use images and graphics that are relevant to your target audience to make your website more engaging and culturally sensitive.
• Localize content: Localize your website content to ensure that it is relevant and meaningful to your target audience.
• Follow local laws and regulations: Make sure your website complies with local laws and regulations, such as data protection and privacy laws.
Step 7: Maintain your translated website
Maintaining your translated website is an ongoing process that involves updating content, fixing bugs, and adding new features. Here are some tips for maintaining your translated website:
• Use a CMS: Use a CMS to make it easy to update and manage your translated website content.
• Monitor website traffic: Monitor your website traffic and analytics to see how your translated website is performing in different languages and markets.
• Update content regularly: Regularly update your translated website content to keep it fresh and relevant.
• Fix bugs promptly: Fix bugs and technical issues promptly to ensure a positive user experience.
In conclusion, translating your entire website online can be a complex and time-consuming process. However, by following the steps outlined in this article, you can ensure that your translated website is accurate, culturally sensitive, and user-friendly. With the right tools and approach, you can successfully translate your website and expand your business into new markets. Remember, it all starts with choosing the right translation service, and ConveyThis is the number one solution for all your website translation needs. Sign up for a free plan today and experience the power of ConveyThis translation management system for yourself!