TRANSLATION APP FOR SHOPIFY
Integrate ConveyThis into your Shopify website and translate it to 92 languages. Increase ROI and online sales.
Zero day compatibility. No investment into infrastructure. No further development required. Secure cloud-based framework.
Shopify is a powerful ecommerce tool for global entrepreneurs. Just like WordPress, they offer their own content management system but added a convenient checkout shopping cart as well as a handful of templates and store themes. However, what's Shopify is lacking is a powerful translation plugin that would allow store owners to offers their products and services in multiple languages and sell globally. The current machine translation solutions are not sufficient and only produce laughable results. Bi-lingual speakers or native speakers of foreign languages frequently find machine translations of very low quality and not suitable for electronic commerce.
Shopify Language Translator
ConveyThis has built a simple shopify language switcher that takes a guess work out of equation. You can simple download and install the shopify localization plugin from its app store and it will make your store in multiple languages instantly. The JavaScript snippet will be installed automatically and you can customize the flags, number of languages and other features right in the app's settings. No need to code. ConveyThis has built a simple shopify translation app that makes the life of a busy store owner easy and free of hassles. All you have to hassle is what to sell online. The website translation and localization ConveyThis takes on itself. It's a SaaS translation solution that doesn't require any programming part on your side.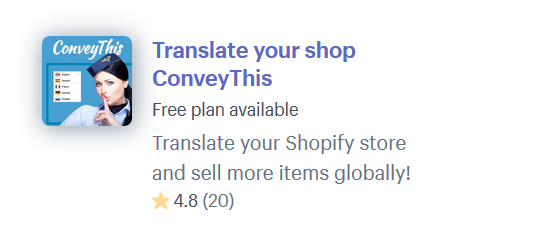 How to Change Language on Shopify?
Once you download and install ConveyThis app, you will be able to select the source and target languages to translate your shopify store and change shopify store language. No manual coding needed. The settings are built into Shopify interface and the plugin is easy to setup. Aside from selecting languages, you can also change the appearance of the language switcher. Change flags from rectangular to square or circle, or remove flags altogether. It is all possible to customize. In addition, you can assign a different country flag to a different language. If, for example, you don't like France like us, hahaha, you can select Canadian flag to represent French language. You have a total freedom to chose and customize your language widget.

Shopify Language Switcher
When it comes to translating a Shopify theme from one language to another, you need to make sure where you can place a switcher: bottom of the page, top of the page or somewhere in the middle. ConveyThis translation app allow for a custom made placement of the widget. The settings allow it to move around the page, so it won't block any of the chat widgets which you may use for your web store. A lot of ecommerce stores now use the online chats to help users navigate the right products and answer all questions. So, if the default location of the widget is bottom right corner, it may interfere with each other. The solution is to use the customization settings of the shopify language switcher and locate it elsewhere. The most elegant hack is to bind the widget's location to a certain page element. This way the language switcher will be scrollable with the page and be displayed in the place where you chose it to display. You have a total control of your customization settings.
ConveyThis app for shopify has a powerful language editor to manually proofread and change the machine translations that you obtain automatically after activating the app. You have a choice of two options: manual side-by-side translation, or visual editing interface. Both are available for your free of charge and have slightly different options. If the text editor allows you to edit languages in the text only way, the visual interface allows to load your Shopify store in the web browser and edit translations anywhere on a page. Our users indicated that visual interface is more preferable as it allows to guess the correct context for the translated sentences and pick better translations.
Weglot for Shopify vs ConveyThis for Shopify
ConveyThis offers essentially what Weglot does, but takes it up a notch and costs less. The free subscription plan on ConveyThis has 500 more words available as well as 92 languages to choose from. Weglot only has 60 languages and charges higher prices in Euros. Weglot offers professional translation through a 3rd party website while ConveyThis offers its own in-house solution with partnership through its parent company Translation Services USA.
Langify for Shopify vs ConveyThis for Shopify
ConveyThis offers a free plan without any credit cards and expirations. You can select any of the 92 languages that it offers free of charge and translate your Shopify store. Langify on the other hand, offers only a 7 day trial, there are no free plans offered which makes it a very expensive solution for website owners. If you are searching for a free shopify language switcher, chose ConveyThis instead. Even with it paid plans, ConveyThis has a distinctive advantage with ease of setup and robust support options.
What is Shopify Localization?
Localizing Shopify webstore with ConveyThis is easy. As you know, Shopify is a proprietary CMS with protected source code. So, no one is able to fully customize and change the source files of its websites. However, with a proxy solution of ConveyThis, it is possible to fully translate and localize the Shopify store and make it available in several languages. ConveyThis comes with machine translators as well as human proofreaders to ensure the best quality. The landing pages of your webstore could be proofread cost effectively which will result in higher conversions and better returns on investments.
Professional Shopify Translation
This is the most important part of ecommerce website translation and localization. Translating a webstore into Spanish, French, German or Japanese without proofreading it, is a waste of time. Machine translations are laughable and can't act like a great way to attract new business from Canada, Mexico, China and other countries. In order to grow quickly, you need to find a way to proofread your translations with help of human linguists. ConveyThis offer this option for a low per word fee, all your landing pages could be proofread by professionals and you will receive the results in less than couple of days.
Instruction
How to install ConveyThis?
Go to your Shopify control panel and click on "Apps" in the left side menu.
Then click to "Visit Shopify App Store".
Find ConveyThis app and install it
After installing ConveyThis app, you will be directed to the user dashboard inside your conveythis.com account.
Open "Domains" page, and press on "Settings" button
Now you are on the main configuration page. Make simple initial settings.
Select your source language, target language and click "Save Configuration".
That's it. Please visit your website, refresh the page and the language button shows up there.
Congratulations, now you can start translating your website.
*If you want to customize the button or get familiar with an additional settings, please go back to the main configuration page (with language settings) and click "Show more options".
*To translate checkout page, please proceed here.