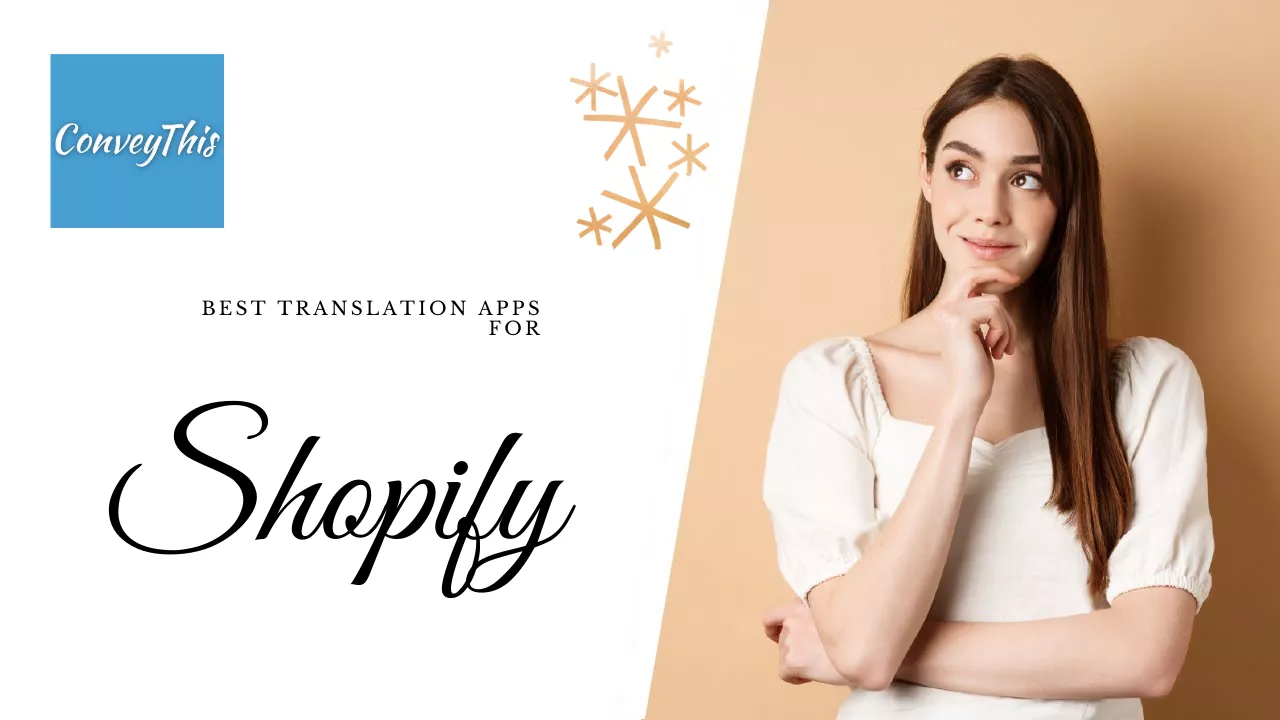 According to the recent survey by Statista, English consists of only 25% of the total internet. The majority of users (75%) do not speak English and prefer their websites in their own languages: Chinese, Spanish, Arabic, Indinesian – you get an idea.
For your surprise, German and French languages consist only 5% combined! You need multilingual Shopify.
If your business is global or international, having a monolingual site may be slowing your penetration into key markets. On the other hand, creating brand-new content for additional languages can be arduous and time-consuming.
If you use the popular CMS platform: Shopify, then the solution would be easier by downloading and installing a special app from its webstore. In this list, you will find our survey. You need multilingual Shopify.

Key benefits you will get using ConveyThis Translate:
100+ of the most popular languages are supported
2-minutes installation with no coding required
Ability to offer your products to customers around the globe
Analytics dashboard to track and optimize conversions
Simple interface to edit your translations
Professional translators who are just a click away
Ability to delegate the whole translation process
Highly customizable language button
Easy migration from Transcy, Weglot, Langify, LangShop and other apps
Dedicated support to all users
Once you have a multilingual website you can attract customers from all over the world. ConveyThis Translate will do all of the work for you. To start translating you just need to select the source and target languages, customize your fancy language switcher and that's it, so simple.
Easy to install and integrate
ConveyThis App is the modern solution where you won't need to deal with any coding or difficult schemes to get it to work. Once you installed the app to your store, it automatically creates for you a ConveyThis account, where you need to select a single most important thing for you multilingual site – source and target languages. From that point you're good to go. The language button is now live.
User-oriented appearance
Button customization allows you to set it up as you want. Whether you have additional pop-up forms or just simply want to move the button you can always change its position in the settings. There many other customization options like changing the flag's shape, selecting between short and whole language names, set up custom language-flag pairs, etc.
Fast and accurate: the entire process
The machine translator is pretty accurate, but still, it's not a human. Its purpose is to boost the translation process and save your budget for creating a multilingual website. Once it's done you can edit your translations through one simple interface. To top of it, in your account, you have the support of professional translators that can help you with general proofreading or in-depth corrections.
Free plan available. 14-day free trial. Additional charges may apply.
Make your business international in minutes
LangShop language translator & currency converter app – helps to expand Shopify store borders and reach international customers, even in the farthest corners of the globe, with 241 languages and dialects and 80 currencies available. Takes only minutes, in background mode!
LangShop's main advantages:
Translated checkout, email notifications, dynamic content (pop-ups, 3rd party apps, etc).
No limits on the number of words & pageviews on any plan.
Translation suggestions by translation drivers (Google, Baidu, Watson, Bing, Yandex)
Different images for every translated version of your store's content
Integrated with Shopify Translation native API
Localization for RTL languages
Unlimited storage of the translation history
3. Language Native Translate
Build multi-languages stores with New Native Translation API
About Native Translate
"Open up your door and greet the customers from all over the world with their own native languages" is not an unsolved story anymore with Shopify! Our Native Translate App is here to help you manage your multi-language store. Unlike other translation apps, Native Translate is based on Shopify's new native translation support. With the addition of translated content, there have been several changes made to the Liquid templating language on your Shopify themes to make it work.
4. Uplinkly Language Translate
Translate your store & get more sales automatically! You need multilingual Shopify. 
Auto-Translate Your Store & Get More Sales
Uplinkly Language Translate lets you instantly translate your store into (almost) any language, and all in just a couple of clicks!
Once installed, just pick which languages you'd like your store to be available in, and we'll handle the rest.
By default, our slick-looking popup language selector will allow your visitors from around the world to pick whichever language they speak in just a single click – pretty nifty!
Translate your shop into multiple languages
100% compatible with the new native shopify translation API
First things first: we're completely compatible to shopify's native translation features. This means, whenever Shopify improves or adds features, we'll adapt immediately!
Increase your sales and improve your business!
Comfortably translate your Shopify content with langify.
Explore our exclusive app features!
And benefit from our outstanding support.
Reach more customers by selling in their native language.
Increase your conversion rate & optimize search engine results
Redirect your visitors to their preferred browser language by one click
Easy setup for everyone – native interface – personal support
All langify essentials can be set up with a few clicks (languages switcher, redirection & currencies)
Add & edit langify auto-translations for your Shopify content (optional feature)
Translate your checkout & notifications (E-mail and SMS)
6. Transl8 | Translate & Localize
Localize and Sell in 100+ languages with AI assistance!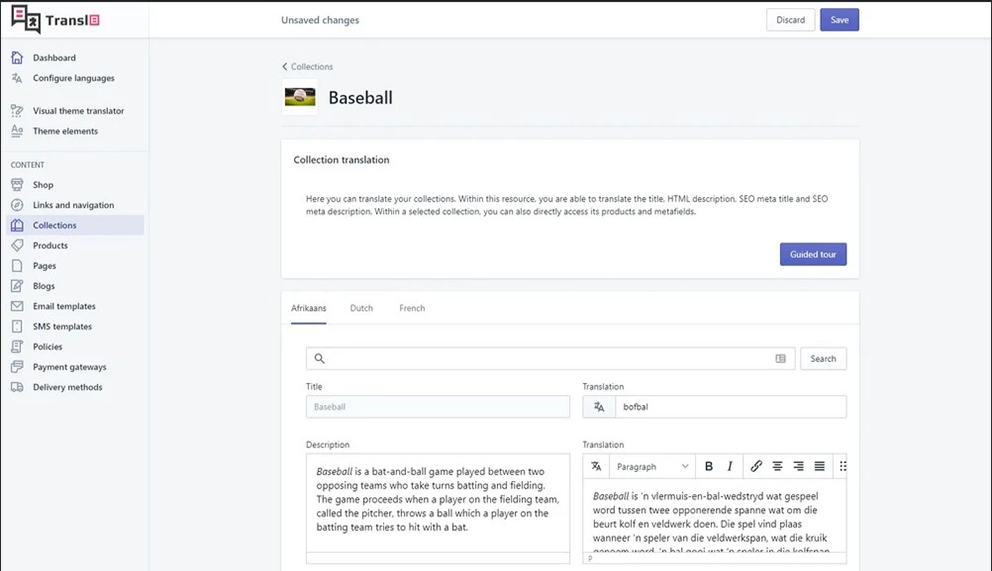 What makes Transl8 necessary to your business?
Transl8 is as simple as it sounds. We help you translate every aspect of your store in to any language you want. This helps your business grow organically by entering new markets and reaching new customers.
As a merchant, you want to:
Conveniently translate your website to attract new customers.
Improve conversion and trust by using your customer's native language.
Beat competitors to untapped markets anywhere in the world.
With Transl8, you're able to:
Easily translate every aspect of your website to 100+ languages in real-time
Use our innovative 'Theme Translator' to enter translations as you view your store, and push it live instantly.
Allow your customers to switch the language conveniently to any you provide
Translate products, pages, metafields, links… Almost anything you can think of!
Insert your own translations, or use AI generated text for a one-click solution
Transl8 is as convenient as Shopify comes. In a nutshell: if you want something translated to any other language, Transl8 helps you do that with minimal effort.
7. Easy Language Translate
Experience a better way to translate store and go multilingual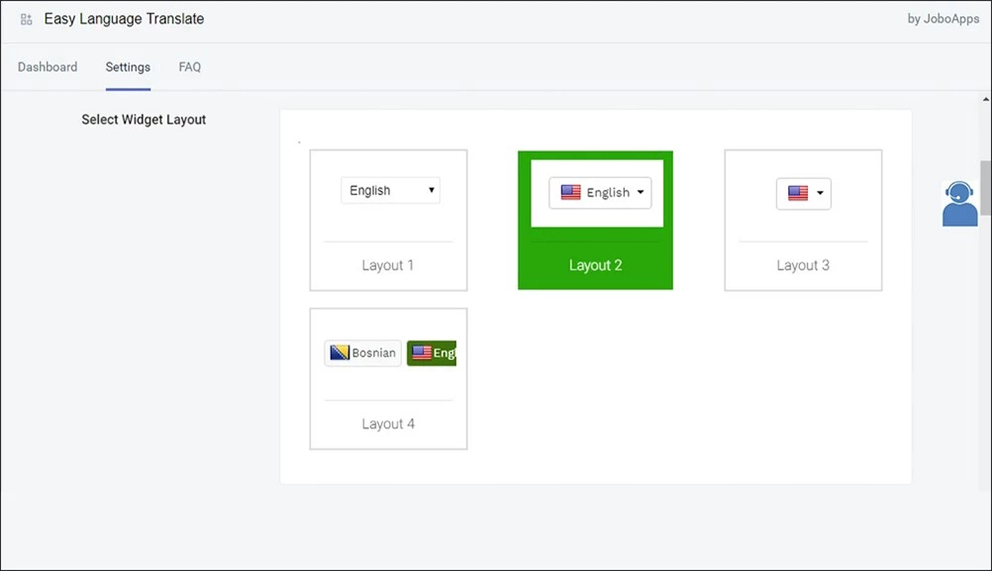 Translate your store and attract global visitors
Translate and boost your sales
Attract global visitors
Quickly install zero coding
Translate and make your store multilingual
The best and easiest translation solution to translate your store, Easy Language Translate is an easy-to-use app that dynamically translates your store content using Google Machine Translate. Your visitors can read your content in their own language by simply selecting from the available options.
Easy Language Translate app is an useful translation tool that allows you to translate texts from more than 100 different languages. It has some useful features like automatic source language recognition
The Easy Language Translate app dynamically adds a customizable google translate widget to the top right of your user screen. This allows visitors to translate your shop content into any language and make your shop. Bring your shop to the global marketplace today!
8. Tranzi: Translate and Currency
Multiple languages translation + Currency Switcher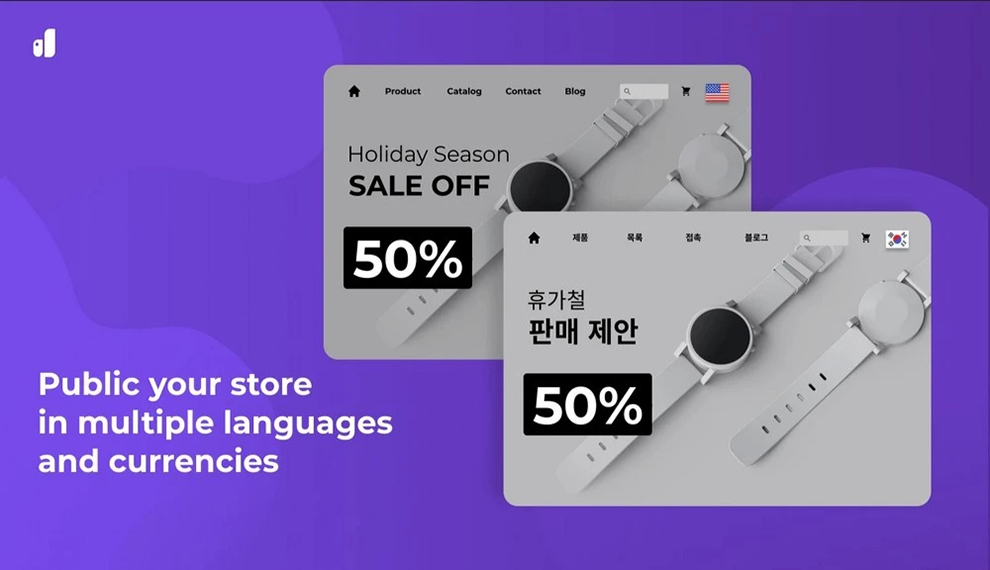 Achieve global success with Tranzi – a must-have app to translate every content on your store into multiple languages and drive sales worldwide.
Why choose Tranzi to your store:
SAVE TIME with AI Translation service from Google

Translate in autopilot. All updates will be notified through email.

Multilingual SEO to reach wider audience for relevant search terms

Currency Converter that improves your customer retention.

Native Shopify translation app that works perfectly with the Shopify system

No coding required with intuitive interface makes your translation process a breeze.
KEY FEATURES OF TRANZI: TRANSLATE AND CURRENCY:
1. Deep Translation
Choose from 100+ languages
Translate all contents from your store, including products and variants, checkout page, etc.
Detect and translate all metatags to index your site in search engines
2. Quickly Translate with Auto translation
One-click translation with Auto translate this page / Auto translate all pages feature
Auto-sync qikify apps data and manage all translatable resources
Filter outdated and recently updated items, then update new contents in minutes
3. Correctly Translate with Manual translation
Manually translate your content
Unlimited editing from auto translation version
4. Language & Currency switcher
Enhance customer's experience with language & currency converter
Fully customizable switcher
5. Dynamic Image Replacement
Choose specific images for your multilingual sites to give your target customers a personalized experience
6. Import & Export translation data
Export any resource type to CSV and send them to professional translators
Import CSV to automatically apply the translation to your store
7. Glossary
Exclude certain words and phrases from the translation process
Setup list of terms you want to replace in the target language
8. Translate qikify apps
Translate all content from qikify apps, including Smart Menu, Sale Kit, Contact Form, Quick View, Smart Bar…
9. Interlingue ‑ D2C Translation
Make your store multilingual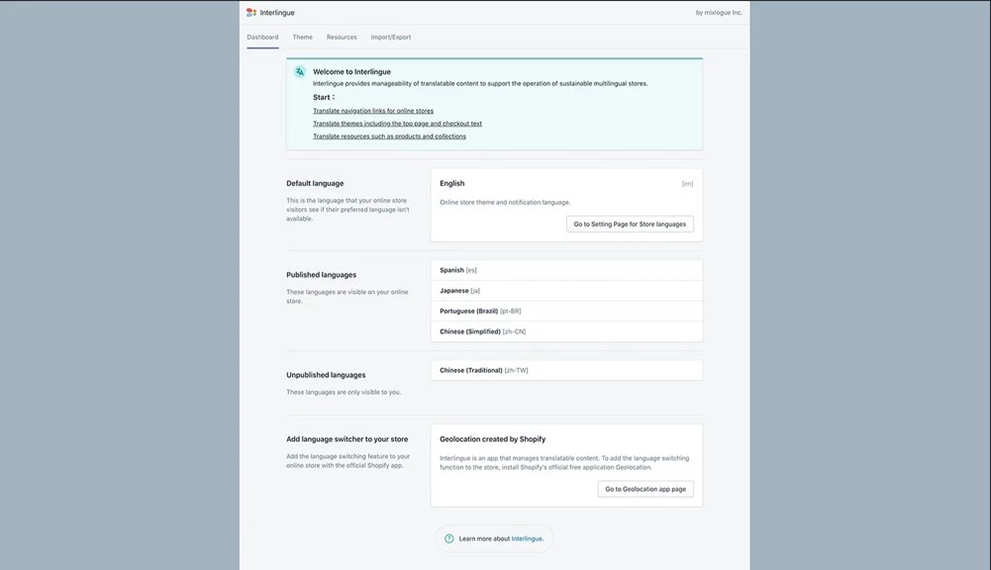 Interlingue is a translation app born from our experience of building various cross-border online stores. This app is designed with the following concepts.
Fully support the scalability of online store and your business
Shopify's strength is its scalability and flexibility to keep pace with business changes. The design concept is to keep the advantages.
Does not conflict with other apps and does not impair page display performance
This app does not modify your store theme files. It aims to get the most out of Shopify's native multi-language feature. Since there is no conflict with other apps, the page display will not be slowed down.
Quick translation / Bulk translation
You can easily translate each content with Google Translate. You can also translate all resource types at once, or you can translate content individually. Manual translation is also possible.
Theme translation
You can translate themes including the top page or cart or checkout strings. It features a string search and convenient shortcuts.
No data is stored on an external server other than Shopify.
Translation data is stored on the Shopify server like other contents, so it is safe and secure. Connection with the translation engine such as Google Cloud Translation are also protected by advanced security
You can easily export / import data.
It supports export of translation data by type and language. Detailed work progress is displayed. You can easily import translation data by drag & drop.
SEO friendly
Unlike the type that rewrites the page with JavaScript, the translated content is rendered on the server side of Shopify, so it is fully compatible with search engine optimization. The URL will be [your store URL]/[language]. Ex.) YOURSTORE.myshopify.com/en, YOURSTORE.myshopify.com/fr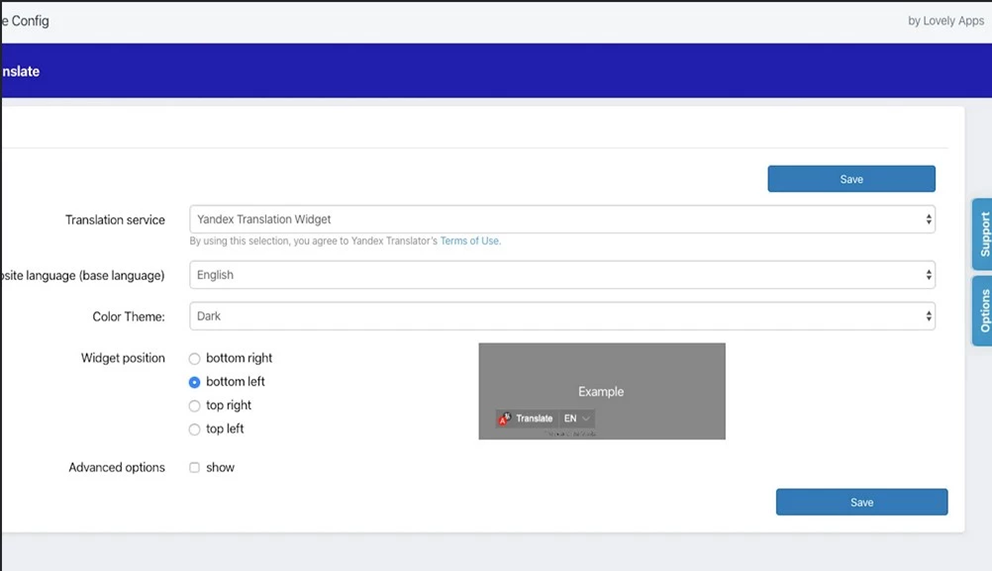 How does tantum Translate help you grow your business?
tTranslate translates your store into more than 100 languages.
Customers from all over the world will be able to shop your store in their preferred language!
tTranslate translated every page including the checkout pages.
Easy setup
It's a few simple clicks: 1 Select the your theme (dark or light) 2 Setup the language switcher that allows your customers can select their preferred language
24h support included
If you run into any issues or need help with the setup we're here to help!
What does the result look like?
We've setup some live demos for you so that you can see it in action. Check out our demo URL!
Do you have any other Shopify plugins in mind? Shoot us an email! support @ conveythis.com