12 plugin dịch thuật hàng đầu cho các trang web WordPress đa ngôn ngữ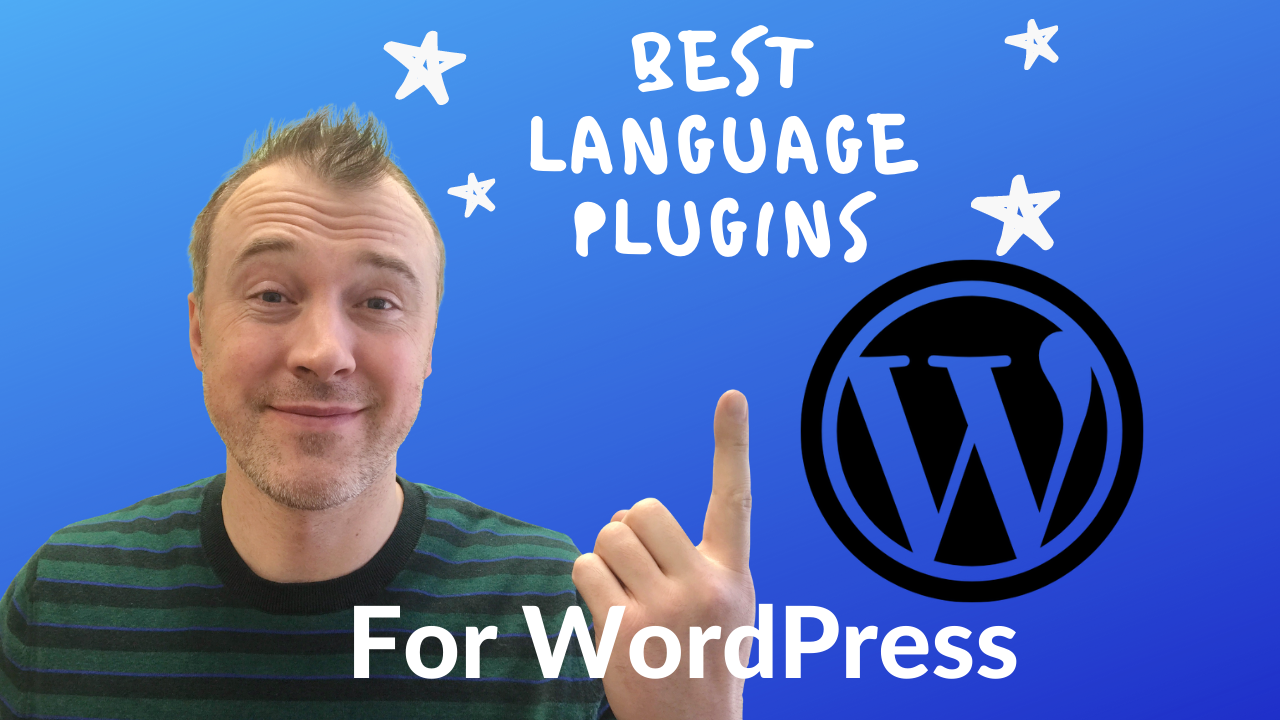 Tiện ích dịch cuối cùng
Add the best language translation plugin to your wordpress website and expand it into 100+ languages.
Tải xuống ConveyPlugin này
Theo khảo sát gần đây của Statista , tiếng Anh chỉ chiếm 25% trên tổng số internet. Phần lớn người dùng (75%) không nói được tiếng Anh và thích trang web của họ bằng ngôn ngữ của họ: tiếng Trung, tiếng Tây Ban Nha, tiếng Ả Rập, tiếng Ấn Độ – bạn hiểu rồi đấy.
Thật ngạc nhiên, tiếng Đức và tiếng Pháp chỉ chiếm 5% kết hợp!
Nếu doanh nghiệp của bạn là toàn cầu hoặc quốc tế, việc có một trang web đơn ngữ có thể làm chậm quá trình thâm nhập của bạn vào các thị trường trọng điểm. Mặt khác, việc tạo nội dung hoàn toàn mới cho các ngôn ngữ bổ sung có thể khó khăn và tốn thời gian.
If you use the popular CMS platform: WordPress, then the solution would be easier by downloading and installing a special plugin. In this list, you will find our survey.

ConveyThis Translator is the most accurate, fastest and easiest way to translate your WordPress website into over 100 languages instantly!
Installing ConveyThis Translate consists of just a few simple steps and takes no more than 2 minutes.
To translate your website with this plugin you don't need to have any background in web development or deal with .PO files. ConveyThis Translate automatically detects the content of your website and provides instant and accurate machine translation. All while optimizing all of the translated pages according to Google's best practices in point of multilingual websites. Also you will be able to view and edit all the performed translations through one simple interface or hire a professional translator to do this for you. As a result you will get a fully SEO optimized multilingual website.
Đặc trưng:
• fast and accurate automatic machine translation
• 100+ languages of the most popular world languages
• no redirections to third-party sites as with Google translate
• translate attributes, alt text, meta text, page URLs
• no credit card required for registration and money back guarantee for all paid plans
• easy to use (just a few simple steps from registration to translation)
• no need to deal with .PO files and no coding required
• 100% compatibility with all themes and plugins (including WooCommerce)
• SEO-optimized (all translated pages will be indexed by Google, Bing, Yahoo, etc.)
• one simple interface to manage all your translated content
• professional translators from a translation agency with over 15 years of experience
• customizable design and position of language switcher button
• compatible with SEO plugins: Rank Math, Yoast, SEOPress
Tiện ích dịch cuối cùng
Add the best language translation plugin to your wordpress website and expand it into 100+ languages.
Tải xuống ConveyPlugin này
2. Polylang - The Oldest Translation Plugin
Active Installations: 600,000+ | Rating: 4.8 out of 5 stars (1500+ Reviews) | Performance: 97% | Updates & Support: Yes | WordPress: 5.3+
Polylang allows you to create a bilingual or multilingual WordPress site. You write posts, pages and create categories and post tags as usual, and then define the language for each of them. The translation of a post, whether it is in the default language or not, is optional.
You can use as many languages as you want. RTL language scripts are supported. WordPress languages packs are automatically downloaded and updated.
You can translate posts, pages, media, categories, post tags, menus, widgets…
Custom post types, custom taxonomies, sticky posts and post formats, RSS feeds and all default WordPress widgets are supported.
The language is either set by the content or by the language code in url, or you can use one different subdomain or domain per language
Categories, post tags as well as some other metas are automatically copied when adding a new post or page translation
A customizable language switcher is provided as a widget or in the nav menu
3. Loco Translate - Most active installations
Active Installations: 1+ Million | Rating: 5 out of 5 stars (300+ Reviews) | Performance: 99% |
Cập nhật & Hỗ trợ: Có | WordPress: 5.3 trở lên

Loco Translate provides in-browser editing of WordPress translation files and integration with automatic translation services.
It also provides Gettext/localization tools for developers, such as extracting strings and generating templates.
Các tính năng bao gồm:
Built-in translation editor within WordPress admin
Integration with translation APIs including DeepL, Google, Microsoft and Yandex
Create and update language files directly in your theme or plugin
Extraction of translatable strings from your source code
Native MO file compilation without the need for Gettext on your system
Support for PO features including comments, references and plural forms
PO source view with clickable source code references
Protected language directory for saving custom translations
Sao lưu tệp PO có thể định cấu hình với khả năng tìm khác biệt và khôi phục
Mã địa phương WordPress tích hợp
4. Bản dịch Transposh WordPress
Cài đặt đang hoạt động: 10.000+
WordPress Version: 3.8 or higher
Đã thử nghiệm lên tới: 5.6.6
Transposh translation filter for WordPress offers a unique approach to blog translation. It allows your blog to combine automatic translation with human translation aided by your users with an easy to use in-context interface.
You can watch the video above, made by Fabrice Meuwissen of obviousidea.com which describes basic usage of Transposh, more videos can be found in the changelog
Transposh includes the following features:
Support for any language – including RTL/LTR layouts
Unique drag/drop interface for choosing viewable/translatable languages
Multiple options for widget appearances – with pluggable widgets and multiple instances
Translation of external plugins without a need for .po/.mo files
Automatic translation mode for all content (including comments!)
Professional translation by Dịch vụ dịch thuật Hoa Kỳ
Use either Google, Bing, Yandex or Apertium translation backends – 117 languages supported!
Automatic translation can be triggered on demand by the readers or on the server side
RSS feeds are translated too
Takes care of hidden elements, link tags, meta contents and titles
Ngôn ngữ đã dịch có thể tìm kiếm được
Tích hợp Buddypress
5. WPGlobus- Mọi thứ đa ngôn ngữ
Active Installations: 20,000+ | Rating: 5 out of 5 stars (200+ Reviews) | Performance: 98% |
Cập nhật & Hỗ trợ: Có | WordPress: 5.3 trở lên
WPGlobus is a family of WordPress plugins assisting you in translating and maintaining bilingual/multilingual WordPress blogs and sites.
Video bắt đầu nhanh
What is in the FREE version of WPGlobus?
The WPGlobus plugin provides you with the general multilingual tools.
Manually translate posts, pages, categories, tags, menus, and widgets;
Thêm một hoặc một số ngôn ngữ vào blog/trang web WP của bạn bằng cách sử dụng các kết hợp tùy chỉnh của cờ quốc gia, ngôn ngữ và tên ngôn ngữ;
Enable multilingual SEO features of "Yoast SEO" and "All in One SEO" plugins;
Switch the languages at the front-end using: a drop-down menu extension and/or a customizable widget with various display options;
Switch the Administrator interface language using a top bar selector;
Cài đặt đang hoạt động: 300+
WordPress Version: 4.4.0 or higher
Đã thử nghiệm lên tới: 5.6.6
Phiên bản PHP: 4.0.2 trở lên

This plugin allow you to translate your monolingual website in a super easy manner. You do not have to bother about .pot .po or .mo files. It safes you a lot of time cause you can effectively transalte thouse texts in a foreign language with just a few clicks gaining productivity. Bravo translate keeps your translations in your database. You dont have to worry about themes or plugins updates because your translations will not vannish.
Some texts are not translated how can I fix it?
If some of your texts are not translated, inspect your source code and check how they are written in your html. Sometimes the text is altered by css uppercasing. Other times some html tags may be inside your texts. Do not hesitate to copy thouse html tags.
For instance lets suppose you have this in your source code :
This is my super title
The translation of the text "This is my super title" will not work. Instead, copy "This is my super title" and insert it at the Text to Translate field.
Does this plugin slows my site?
This plugin has a very low impact in your page loading time. However try to limit very shorts texts to translate ( text with only 2 or 3 characters long). The plugin will find a lot of ocurrences of thouse short texts and it will have a lot of job to do deciding if it is text to translate or not.
If you put a lot of texts with just 2 characters, you may increase the loading time by a some millisecs (of course that will also depend on your server performance).
Phiên bản: 1.2.0
Last updated: 2 months ago
Cài đặt đang hoạt động: 200+
WordPress Version: 3.0.1 or higher
Đã kiểm tra tới: 5.8.2
Auto Translate simplifies translation. You are literally seconds away from having your website translated into 104 different languages.
It couldn't be easier to implement
cài đặt plugin
kích hoạt nó
Have your website translated automatically for visitors from all around the globe!
Đáng tin cậy và chuyên nghiệp
This plugin is powered by the trusted Google Translate engine, don't let any dodgy translations make your website look unprofessional. Make use of the best automatic translation engine.
Phiên bản: 1.4.0
Last updated: 2 months ago
Cài đặt đang hoạt động: 6.000+
WordPress Version: 4.5 or higher
Đã kiểm tra tới: 5.8.2

Multilanguage plugin is a great way to translate your WordPress website to other languages. Add translated content to pages, posts, widgets, menus, custom post types, taxonomies, etc. Let your visitors switch languages and browse content in their language.
Create and manage your multilingual website today!
Tính năng miễn phí
Dịch thủ công:

Các trang
Bài viết
Tên danh mục bài đăng
Tên thẻ bài đăng
Thực đơn (một phần)

Hơn 80 ngôn ngữ được cài đặt sẵn
Thêm ngôn ngữ mới
Choose the default language
Search website content by:

ngôn ngữ hiện tại
Tất cả các ngôn ngữ

Thêm trình chuyển đổi ngôn ngữ vào:

Chức năng điều hướng
Vật dụng

Change display order in the language switcher
Bố cục trình chuyển đổi nhiều ngôn ngữ

Drop-down list with languages and icons
Biểu tượng cờ thả xuống
Biểu tượng cờ
danh sách ngôn ngữ
Google Dịch tự động

Choose language flag icon:
Translate Open Graph meta tags
Display translation availability in the posts and taxonomy lists
Tương thích với:

Trình chỉnh sửa cổ điển
Trình chỉnh sửa khối (Gutenberg)

Add hreflang links to section
Hide link slug for the default language
Bảng điều khiển quản trị sẵn sàng dịch
Add custom code via plugin settings page
Compatible with latest WordPress version
Incredibly simple settings for fast setup without modifying code
Detailed step-by-step documentation and videos
Multilingual and RTL ready
9. WP Auto Translate Free
Phiên bản: 0.0.1
Last updated: 1 year ago
Cài đặt đang hoạt động: 100+
WordPress Version: 3.8 or higher
Đã kiểm tra tới: 5.5.7
Phiên bản PHP: 5.4 trở lên
Allow users to auto translate website with just a simple click using Google Translate or Microsoft Translator engine.
Remember, using this plugin you can not hide Google or Microsoft toolbar and branding.
Đặc trưng:
Free Google Translate or Microsoft Translator engine
Hiệu ứng di chuột qua
Translates the site on the fly
Right or left plugin position
Auto-switch language based on browser defined language
beautiful floating dropdown with flags and language name
Multilingual language names in native alphabet
Only clean JavaScript without jQuery
Posts and pages translation
Categories and tags translation
Dịch menu và widget
Bản dịch chủ đề và plugin
Currently supported languages:
* English
* German
* Polish
* Spanish
* French
* Portuguese
* Russian
10. Falang multilanguage for WordPress
Phiên bản: 1.3.21
Last updated: 2 weeks ago
Cài đặt đang hoạt động: 600+
WordPress Version: 4.7 or higher
Đã kiểm tra tới: 5.8.2
Phiên bản PHP: 5.6 trở lên

Falang is a multilanguage plugin for WordPress. It allows you to translate an existing WordPress site to other languages. Falang natively supports WooCommerce (product, variation, category, tag, attribute, etc.)
Ý tưởng
thiết lập dễ dàng
Supports all languages supported by WordPress (RTL and LTR)
When you add a language in Falang, WP language packages are automatically downloaded and updated
Easy to use: Translate Posts, Pages, Menus, Categories from the plugin or linked from the WP interface
Translate Posts and Terms permalinks
Translate additional plugins like WooCommerce, Yoast SEO, etc.
You can use Azure,Yandex,Lingvanex to help you with the translation (Google and DeepL services may be included in later versions)
Displays the default language if the content is not yet translated
The Language Switcher widget is configurable to display flags and/or language names
Language Switcher can be put in Menu, Header, Footer, Sidebars
Image captions, alt text and other media text translation without duplicating the media files
Language Code directly in the URL
No extra database tables created, no content duplication
Very good website speed performance (low impact)
Contains translations for IT, FR, DE, ES, NL
Falang is not meant for WordPress multisite installations!
11. Translate WordPress with TextUnited
Phiên bản: 1.0.24
Last updated: 5 days ago
Active installations: Fewer than 10
WordPress Version: 5.0.3 or higher
Đã kiểm tra tới: 5.8.2
Rất có thể trang web của bạn đang nhận được nhiều lưu lượng truy cập từ bên ngoài quốc gia của bạn. Giờ đây, bạn có thể dễ dàng dịch và bản địa hóa toàn bộ trang web WordPress của mình sang hơn 170 ngôn ngữ bằng một plugin chỉ trong vài phút.
There is no complicated coding needed. The plugin works as a simple translation tool for all your language needs. It is also SEO-friendly so, search engines will index the translated pages naturally. Perfect if you are looking to reach more customers, boost sales, and expand your business.
With the Translate WordPress with TextUnited plugin, you can turn your website multilingual with just a few clicks.
12. Linguise – Automatic multilingual translation
Phiên bản: 1.7.2
Last updated: 3 days ago
Cài đặt đang hoạt động: 40+
Phiên bản WordPress: 4.0 trở lên
Đã kiểm tra tới: 5.8.2
inguise plugin offers a direct connection to our automatic, high-quality translation service, with possible access to multiple translators for content revision. The automatic multilingual translation is free during the first month and up to 400 000 translated words (medium website with at least 4 languages), no language number or page view limitation. Increase your website traffic with instant multilingual translations in more than 80 languages and get 40% more traffic from Google, Baidu or Yandex search engines.
Do you have any other WP plugins in mind? Shoot us an email! support @ conveythis.com
Tiện ích dịch cuối cùng
Add the best language translation plugin to your wordpress website and expand it into 100+ languages.
Tải xuống ConveyPlugin này