Shopify is a great web-site builder. It catches lots of publicity and it is mentioned on the latest WordPress's WordCamp more often than WordPress itself. However, managing reviews on Shopify could get tricky.
Shopify is a paid platform. Unlike WordPress, it doesn't have any free plans. The users feel starved to download a quality product and don't break the bank at the same time. We call them – poor users. They run their web stores, but they don't apprciate other people's time and efforts. They prefer everything to be handed to them for free and they still leave negative reviews.
Such thing occurred to us last week and we've got a first 1 star review! Uh hoh! What on earth we could have done so wrong so that someone could leave us such a fierce feedback? I've read it entirely and couldn't understand the basis. Here is the copy: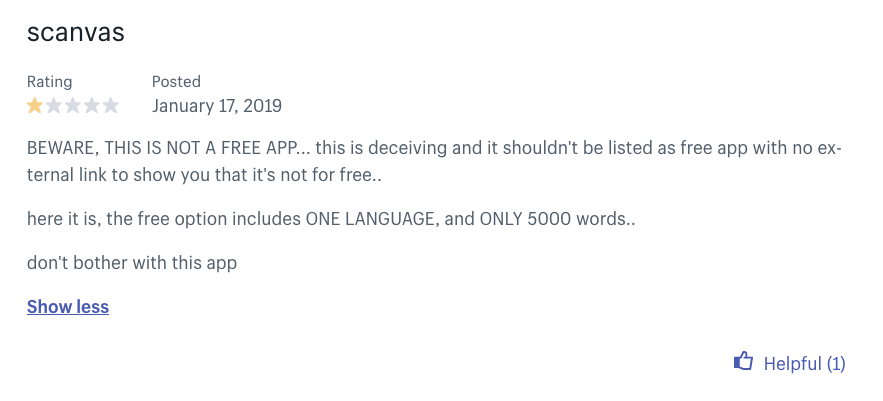 This guy that goes by the nickname: scanvas, goes by the name: Mohammad Abu-Samra and runs the following webstore: scanvas
He left us a bitter review stating that our app is not free, that we tried to deceive him and that the app shouldn't be listed as free if it is not free. He didn't like that fact that our FREE plan existed and they we have put some limitations to it such as one extra language and 5000 words pre-translated with machine translator free of charge.
I tried to contact Mohammad with several emails, but haven't heard a reply. He must be a very busy businessman… No time to spare on the free apps… Right?
The dilemma of offering free plans has been always on my mind. Running a SaaS product, you can attract much wider audience by offering a product that has free plan. However, if you don't put any limitations, users will always stay on the free plan and will never pay. It maybe a great idea to spend your life working for free and die with no money to be left to your children and help building the better society with free products. But being a New York City based company with sky high office rents and salaries, we simply can't afford that. Yes, we can try to win some grants, but that is only temporary. Eventually, without funds, we won't be able to maintain the product and implement new features to keep it up to date for Shopify, WordPress and other platforms. This is just the raw mathematics of life.
So, what is the solution? I guess we need to get rid of free plan whatsoever. It is a waste of time and money trying to support free users that don't pay. Yes, they provide valuable feedback and help polish the product. However, most of the time, they don't provide anything. They don't read instructions. Make mistakes trying to install the plugin and then contact support for the issue that lies on the surface. That's time waster.
The interesting video has been posted by this guy. He advocates to ditch the free users for good and it seems plausible.
What are your thoughts on that? Is it normal and is a by product of getting popular?