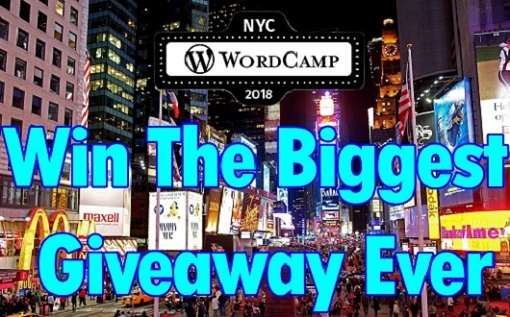 ConveyThis prenderà parte al prossimo WordCamp a settembre a New York.
Per questo prossimo evento abbiamo preparato un giveaway speciale come non abbiamo mai fatto prima.
Se sei interessato a sfruttare questa opportunità unica nel suo genere, continua a leggere e familiarizza con i termini e le condizioni.
Chi verrà all'evento riceverà 1 mese di abbonamento gratuito e la possibilità di vincere un nuovo iPad *!
Tuttavia non possiamo dimenticare tutti i nostri abbonati, ecco perché stiamo annunciando un concorso per vincere una carta regalo Amazon da $ 100 e un abbonamento di 2 mesi per il piano Pro. Completamente gratuito!
In vista del WordCamp lanceremo una sfida incredibile e di conseguenza sceglieremo un vincitore. Avendo due mesi di abbonamento per il piano più avanzato sarai in grado di trasformare il tuo attuale sito web in uno completamente multilingue e completamente ottimizzato SEO.
Ancora una cosa, avrai il tuo account manager personale per tutto questo periodo!
Ecco le regole per partecipare:
– like this post in our Facebook group and leave a comment saying: "I love it! I will subscribe to 100 plans!";
– subscribe to our YouTube channel;
– watch this video and leave a comment on it.
The contest is for everyone and has no geographic or other limitations.
Dates of the contest – 09.06.18 to 09.25.18. The winner will be revealed at the 25th of September.
The winner will be chosen based on the most liked comment on this post with the help of this tool.
Only those participants who fulfill all the required steps will be subject to selection as a winner.
Ulteriori informazioni sulla nostra politica sulla privacy qui.
Puoi contattarci a support@conveythis.com per ulteriori informazioni.
*Un nuovissimo iPad da 9,7 pollici dell'ultimo modello ConveyThis con un marchio inciso sul retro (Space Grey, 32gb, Wi-Fi).
** Questa promozione non è in alcun modo sponsorizzata, sostenuta o amministrata da o associata a Facebook.